Happy Monday!  It's time to read a banned book or two.  Banned book week actually started yesterday, but I try not to blog on the weekends.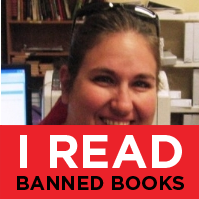 Since yesterday was Sunday, and Sunday is my Sabbath, I thought about religious books.  They've all been banned at one point in time, at one place or another.  I read the Bible and the Book of Mormon.  Both have been banned in many places for all sorts of reasons, although I am pretty dang sure the Book of Mormon has been banned more than the Bible.  But before all of you Mormons begin nodding and crying "foul,"  let me remind you that most of the recent book burnings in the United States have been perpetrated by religious groups targeting the Qur'an. Why would we complain that we are being targeted for our religious beliefs and then target others for theirs?  We're living a friggin' double standard!
My challenge to you this week is to look at the top 100 banned books list for the last decade. I'm sure you will find at least one there that you have read and loved. If you are a reader, you will probably find a few that you liked.   Now find one that you haven't read but are interested in and read it.  Feel free to leave me a  comment on what you chose and how you liked it. I look forward to learning from you.